Nicki Minaj não tem "papas na linguá" quando se trata de sua imagem, a rapper desabafou hoje(03) no twitter e usou a conta para expor seu desgosto pela marca "Giuseppe Zanotti" por ter criado uma linha de sapatos com o nome da Nicki sem a autorização dela, segundo informações da rapper a empresa está usando o nome da rapper para se beneficiar em suas vendas sem está pagando nada a ela.
"Isso é incrível. Giuseppe Zanotti acha que esta tudo bem ele nomear seus Sneakers (Tênis) com meu nome, seus empresários disseram que não vão atender nossas ligações, Eu conheci Giuseppe Zanotti anos atrás. Naquela época, ele disse que eu o inspirei no novo design de um tênis. Os que estavams na capa da Cosmo". Disse a rapper.
Fãs rapidamente fizeram a procura na internet para confirma a ação e começaram a espalhar as imagens no twitter, veja: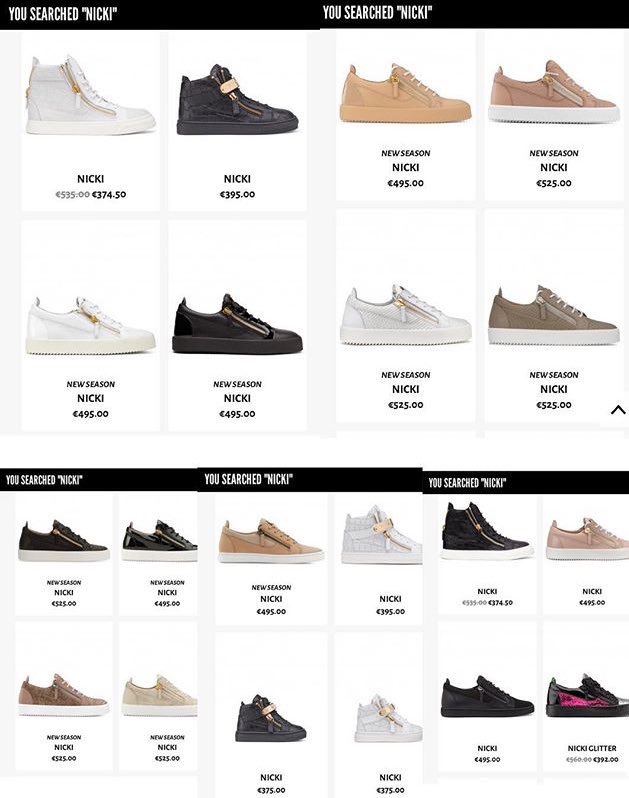 Quase todos os tênis tem o nome de "Nicki".
"Recentemente quando ele deu folhetos da coleção, meu empresário tentou entrar em contato mas foi avisado que eles não atenderiam nossas ligações.
Vão no Google, você vão ver todos os pares diferentes que ele nomeou com meu nome. Garota negra pode te inspirar mas não vale uma coleção, meu caro?". Continuou a Rapper.
A Rapper logo em seguida pediu para os fãs subiram a hashtag #RunMeMyCHECK #GiuseppeWhatsGood dizendo "porque o desrespeito e o racismo não serão tolerados"
(Tradução: #MandaMeuCheque e #GiuseppeQualaBoa?) as tags ficaram no Trends Mundiais, e também nos Trends do Brasil e Reino Unido.
Don't care about the money. It's just the disrespect. You're not taking MY call? Lol. Give some money to charity in my name or smthn. 🙏🏽

— NICKI MINAJ (@NICKIMINAJ) 3 de fevereiro de 2017


Ela disse: "Não me importo com o dinheiro. Você não vai atender minhas ligações? Risos. Doe o dinheiro a uma instituição de caridade em meu nome"

Resumindo, Giusepper criou uma linha de sapatos com o nome da Nicki sem a autorização dela e ele não esta pagando pra ela por usar seu nome.