Nicki Minaj trolou todo mundo só para começar esse texto super triste, a historia começa quando Minaj entra em seu twitter e resolver twittar a seguinte frase "Ok, vocês sabem que eu não iria dizer nada, mas porra, isso saiu de mim. O álbum sai à meia-noite e se chama Pick My Fruit Out."
Ok u know what I wasn't gonna say anything but damn ya got it out of me. The album drops at midnight. 🎀💋 it's called

#PickMyFruitOut

— NICKI MINAJ (@NICKIMINAJ) 9 de outubro de 2016
Logo em seguida fãz ficaram louco e rapidamente subiram a hashtag #PickMyFruitOut que entrou no top 10 de 25 países e ficou em 3º lugar nos trends mundiais no twitter, mas não parou por ai! Grandes Sites e até o Wikipedia já tinha registrado a informação em seus respectivos sites. veja as imagens!
A Informação saiu em vários e vários sites.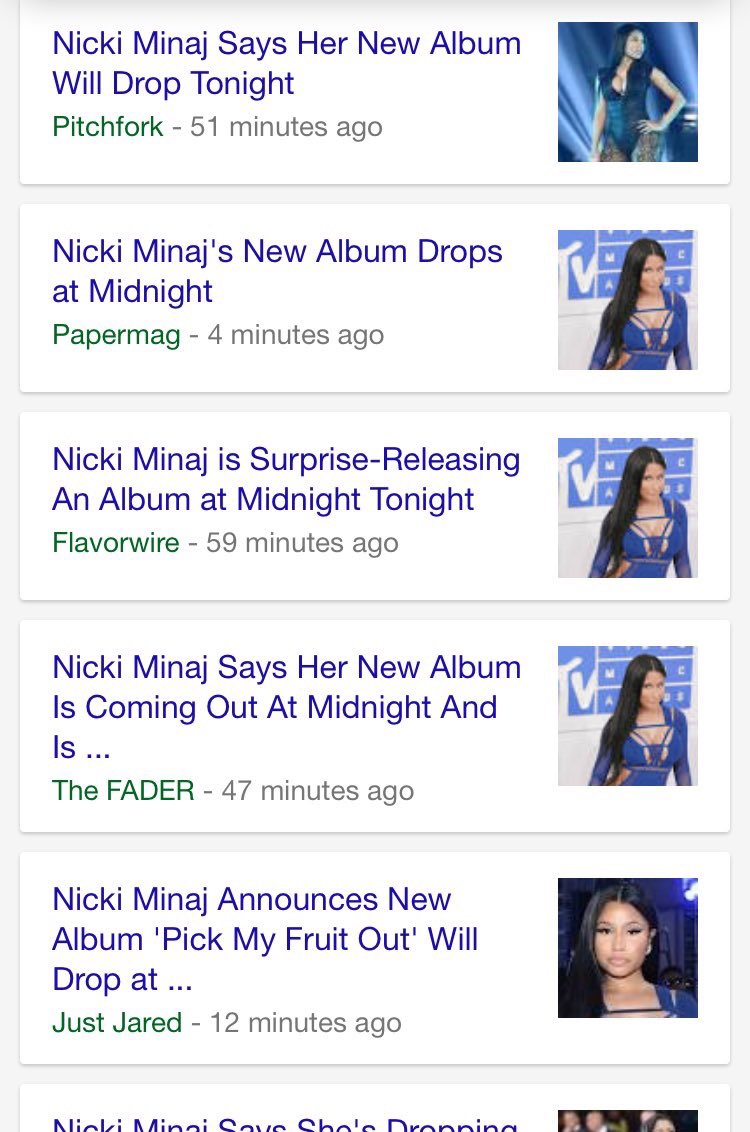 Quando questionada por um fã sobre o nome de alguma canção, Nicki Minaj respondeu
"todas as músicas começam com nome de fruta"
daiiiiii alguns fãs já sentiram a trollagem por parte de minaj, mais alguns ainda acreditavam que a rapper fosse mesmo lançar um novo álbum até ela publicar a tracklist do álbum o curioso é que todas as musicas tinham nomes de frutas, os fãs logos perceberam que era zoeira de Nicki Minaj.
TRACKLIST (Traduzida)
1. Manga
2. Cereja
3. Melancia
4. Bananas (Interlúdio Harambe)
5. Uvas
6. Framboesas
7. Kiwi
8. Abacaxis
9. Loops de frutas
Um fã falou para Nicki "
É quase 04:00 aqui na Holanda, mas eu só queria dizer que eu te amo e sempre estar me fazendo rir ❤️❤️
" c
om isso ela revelou a mentira a o fã dizendo
"Beijos…Amo você também. Todos vocês. Amo vocês pra c*ralho. Eu estava rindo e chorando ao mesmo tempo. Apesar de tudo, boas coisas."
— NICKI MINAJ (@NICKIMINAJ) 9 de outubro de 2016